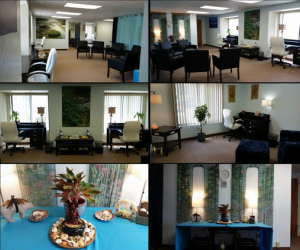 What To Expect:
A typical session with me will last from 60-90 minutes, there is no physical contact and you remain fully clothed. I perform a concert just for you and/or your group, eliciting beautiful and relaxing tones from the bowls by either tapping them or rubbing the rims with various mallets. Many people reach a dream state within five to ten minutes. Time is given at the end of the session for people to gently 'wake up' and share their perceptions and the effects the Singing Bowls have brought about.
To maximize your experience, it's best to wear comfortable clothing and to have some clean water to sip. If you prefer to lay down, it's nice to have a pillow, blanket, and yoga mat, and some form of eye covering (a
sleep
mask, bandanna, etc.) to block out visual stimuli; or you can choose to sit upright in a chair and still receive all of the benefits. If you're having a private session in your home, nestle into your most comfortable chair or stretch out on the couch and let me and the Bowls do the rest. Also, think about an issue you'd like to work on, so as to set an intention before the session begins. My intention always is to impart Love and Light and healing energies to all present.
Thank you for your interest. I look forward to hearing from you and sharing the meditation/relaxation music and stress relieving vibrational frequencies of the Singing Bowls of the Himalayas:
Sounds for Serenity
,
Music for Mindfulness
.
(Watch a four minute video of me and the bowls -
https://www.facebook.com/Stephanie-Woods-The-Singing-Bowl-Lady-803298833102833/?ref=settings
and please 'like' my page while you're there!)
With gratitude,
Stephanie Woods
Pricing:
Let My Sound Business Help Keep Your Business Sound!
Business/Corporate
Singing Bowl Sessions - Two hour minimum ~ $150 per hour
60 minute
Singing Bowl Session (Residential) - $100.00 (each additional person: $35.00) **
NEW!!
Private or group sessions at:Intentional Self
6 Cabot Place
Stoughton, MA 02072
Call me @ 781-510-9199 to schedule an appointment.
Travel Fees:
Residential
:
Most people prefer to have a session in their own home so that they may continue to relax and not have to "shift gears" until they choose to do so. The Singing Bowl Lady is located near Boston, in Bridgewater, on the South Shore of Massachusetts, and can travel to most locations.
The following fees apply:
(All mileage calculated
from
Bridgewater, MA)
Between 1-10 miles $10
Between 11-25 miles $15
Between 26-50 miles $20
Beyond 50 miles, To Be Determined
Special:
Schedule an In-Home Group Meditation Circle
:
The person hosting receives the session FREE with a minimum of four additional guests at $35.00 each, plus travel fee. That's a $100.00 savings.
***Gift Certificates*** What could be better than gifting someone a Singing Bowl session, to be enjoyed in the comfort of their own home? Give the gift of relaxation, be the person they'll thank over and over for this thoughtful, unique, and peace-filled gift. (Or let someone know that
you
would appreciate one). Call or email for more information.
email for an appointment
or call: 781-510-9199
TOP OF PAGE
HOME
TESTIMONIALS
ABOUT ME
HIMALAYAN SINGING BOWLS FOR SALE
OF INTEREST
---