Stephanie Woods, The Singing Bowl Lady, sells some of the finest antique singing bowls available anywhere. These bowls have been hand selected in Nepal from the

"first family of singing bowls", a family that has been dealing in collectible antique singing bowls for over four generations. These antique bowls (between 100 and 300 years old) have to be heard to be appreciated; the overtones are deep, rich, and long lasting. You will not find these bowls in a gift shop. If you just want one special bowl or are looking to start a collection you'll be delighted with the quality, value, and price. Please call or email for an appointment to view, touch, hear, and play these bowls for yourself.

Call: 781.510.9199

email Stephanie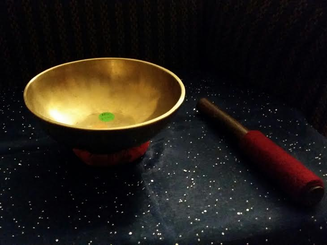 Satisfied Repeat Client:
"My experience with Stephanie and singing bowl harmonic therapy has been nothing less than
pleasurable. The bowls gently help remove blocks in your energy field and the stress of the day.
It also raises your vibration. The harmonic sounds work well with other healing modalities (Reiki,
Trager, Massage, Meditation).
"In addition to sessions with Stephanie, I have purchased 5 (and more to come) antique bowls to add
to my collection. I have been completely satisfied with both my sessions, and my purchases. You
won't find these wonderful bowls in a gift shop. If you wonder why anyone has a "collection" of
singing bowls, you simply must try a session with them to experience their overall healing qualities
for yourself."
E. Brennan, Taunton, MA - Retired Trager Practitioner
____________________________
​"It was such a treat having Stephanie come to the house, bearing beautiful singing bowls. We talked and soaked up information (the Singing Bowl Lady does know her stuff!), and the bowls revealed all their complex harmonies much to our delight. We now have a precious addition to our lives and meditation practice. Thank you, Stephanie!"
Susan H., Middleborough, MA
HOME
TESTIMONIALS
ABOUT
ME
BOWL SESSIONS
OF INTEREST