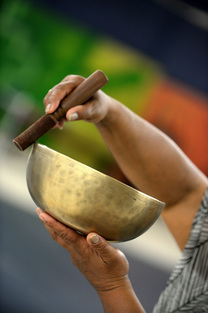 Testimonials
:
"I wanted to thank you again for your presentation at the Foxboro Library. It was so
relaxing, I was able to experience a deep meditation. I felt a lot of emotion and as it was
coming to a close I had tears running down my face. Before it ended I heard a clear,
distinctly female voice speak in my left ear, "tell her she is loved". I thought that was
strange and it did not feel like it was for me necessarily. I only realized the next day that
it was for my sister, and I believe that it was from our Grandma. I was a bit stunned myself
because I've not been in the habit of hearing messages. I'll try to tune in better it may
prove to be helpful. I thought that you would like to hear this."
J.P.
Foxboro, MA
____________________________________________________________________
"I had an amazing 60 Minute Singing Bowl Session with Stephanie Woods this
morning, it was so relaxing. I feel energized, motivated and relaxed all at the same
time! I highly recommend you check her out......."
Heather Silva Wood
Owner @ BodyLove
Yoga & Fitness Center
East Bridgewater, MA
___________________________________________________________________
Stephanie,
"As one more inclined towards a massage or glass of wine as an avenue to relaxation,
I was astounded by how quickly and how deeply the bowls impacted me. My session
was truly a treat and it is without hesitation that I would encourage anyone who seeks
a moment of restful bliss to give them a try. My only regret is that having relocated to Texas,
I can only book the
occasional session with you when I am visiting. Keep up the great work!"
Gemma B., Houston, TX
__________________________________________________________________
"I've had the pleasure of enjoying several private singing bowl sessions
with Stephanie. I didn't know what to expect and was pleasantly surprised
to find myself drifting into a place of deep relaxation and peace,
something I rarely experience as a high-strung woman living in an urban
environment. At the time of my last private session, I was suffering from
severe knee pain which evaporated after Stephanie's treatment. Stephanie
creates an environment that supports a sense of well-being and has the
skills to use the bowls to their full advantage. I have no idea how it
works, but it does! I would highly recommend Stephanie to anyone open
enough to experience the delights of her amazing singing bowls."
Joan T., Medford, MA
_____________________________________________________
" I'm a farmer in Pennsylvania and I recently had the good fortune to meet Stephanie
through a mutual friend. My back had been troubling me for over a month and my
usual fix of laying down on a tennis ball and trying to roll it up and down my spine
just wasn't working. My friend suggested that I let Stephanie have a shot at it. With
all the work I have to do around the farm I was desperate for some relief, and I was
kind of tired of hearing myself groan every time I moved.
"I laid down on the couch and she put a bowl on the small of my back where the pain
was the worst. She played around the outside of the bowl and it felt like a mild current
was traveling from the bowl right into the pain. I was chatty for a while but my friend
said that I dozed off after about 15 minutes.
"After she was done (about 30 minutes they say) she let me continue sleeping for
10 mins. or so. She woke me up and I positioned my hands so I could slowly lift my chest
off the couch. As I pushed myself up I felt my spine pop back into place! I looked at
Stephanie and she looked back all wide eyed because she heard what I felt. My friend
said it sounded like someone stepping on bubble wrap! I stood up slowly and was amazed
that the pain was just about gone, still a little sore but oh what relief.
"That night I slept like a baby and woke up in the morning pain free. I'd almost forgotten
what that felt like. Thank you Stephanie. Maybe if you move down here I'll throw away
my tennis ball!"
Sincerely,
Greg S., Lawrenceville, PA
___________________________________________________________
"Truly a gift. The love moving through Stephanie as she struck the bowls was
transformed into clear, pure sound. The resonance created a wonderful healing
sense of Presence."
I. O'Connor, Cambridge, MA
__________________________________________________________
Hi Stephanie,
"Thank you so much for your beautiful performance. Everyone really enjoyed
it and it made for such a relaxing day. I hope I get to hear you play again
sometime soon." : )
Much love,
Katie O., East Bridgewater, MA
(Bridal Shower party)
__________________________________________________________
"The power of these bowls is phenomenal. My first experience with Stephanie
began after a hectic day at work. I arrived with my shoulders around my ears.
The sound therapy of the bowls immediately relaxed me but to my surprise
each time she changed the pitch it was as if I was being dared to relax more.
When the hour was over I emerged a new woman: relaxed, at peace - in a manner
only Summer Vacation can achieve. I highly recommend this experience and look forward to
my next treatment."
Hope F., Kingston, MA
Assistant Principal
___________________________________________________________
"I have the honor and blessing to know Stephanie as a healer and friend. She
has been a guest on my radio and television programs bringing a wealth of
energy and healing to the audience, that touches their souls and hearts. I have
had the experience of a bowl session that sent me to a place beyond myself
that opened my blocks I never knew were closed or had! Stephanie went to an event
in Cambridge, Mass. and was approached by a couple that saw her on my television
program and was impressed with her work and thanked her. Doesn't get
any better than that!"
Lois Berman, Radio Host
"Lois On The Line"- WXBR Radio 1460 AM
__________________________________________________________________
"Stephanie Woods is an amazing Sound Healer and her Himalayan Bowl Workshops
and One-on-One Sessions are amazing. She has been to my Center, Angels of
Light in Norwell, several times and brings great healing and light along
with her."
Many Blessings,
Rev. Cathi Burke
Owner @ Angels of Light
Norwell, MA
_____________________________________________________________
"I've had the pleasure of receiving Bowl sessions given by Stephanie on
several occasions to manage my stress and each time was able to achieve a
deeper state of relaxation than before. It's like there is this cumulative
effect as your body is surrounded by the gentle resonant tones that it
learns to respond quicker in unclenching its hold on the tension
throughout it with each experience.
"I have trouble falling asleep after I lay down and turn off the light I
can't just shut off my inner 'to do list', and find myself tossing and
turning as I go over the day's events and what tomorrow might bring. But
after a Bowl session with Stephanie I am relaxed enough to be able to fall
asleep and stay asleep all night. The relaxation is so profound that it
lasts well into the next few days. It is as if the vibrations from the
Bowls re-tune my nerves so that they are humming along all on the same key
instead of the discordant frenzy they were before the session.
"I would highly recommend a session to anyone who is, like me, spreading
themselves out too thin trying to do it all. As hard as it always seems to
be to be able to find time for yourself you will discover that when you can
relax your body to the deep healing level a session of the singing Bowls
can bring you, it will make you stronger, clearer and able to ultimately do
more with less fatigue than if you keep denying yourself these moments of
renewal. Please do yourself this favor. And if you know someone that could
use a break too - a session with the Singing Bowls would be a nice gift!"
Meggin L., Hanover, MA
_______________________________________________________
"I have to say I am amazed by Stephanie and her talent with the Singing Bowls.
I honestly did not know what to expect going in. The minute my session started I
immediately felt relaxed and grounded, I stayed that way until the very end.
Returning to the rest of my day was calming and peaceful. I highly recommend
Stephanie to anyone who is looking for an hour of completely grounded relaxation!"
Christine Varnum Roche
Owner @ Comfort Healing
East Bridgewater, MA
_____________________________________________________________________________________________
"There were two great happenings with Stephanie playing the singing bowls.
We had some shy young girls at our Somerville Laughter Club. The singing
bowls brought them out of their shyness and they fell in love looking, listening
and even touching the singing bowls.
"I cannot show enough appreciation for Stephanie performing her singing bowls
at Energy Theater 2. Her performance added the glue that made Energy Theater 2
such a success. The audience loved her and her bowl singing."
Walter Ness
Director
Energy Theater
___________________________________________________
"My session with Stephanie and her Bowls was awesome. It is nearly impossible
for me to relax my mind, but with her help I achieved a state of
TOTAL relaxation
.
It was like a massage for my soul. Thank you, Steph!!"
Stephen F., East Bridgewater, MA
________________________________________________________________
"I have known Stephanie for more than three years as her love of the singing
bowls has blossomed into a practice that I have shared and benefited from.
"My first experience of Stephanie's work was a private session as I laid
back in an easy reclining chair and drifted into a deep relaxation,
attuning my inner cords to cosmic harmony. Her gift of perfect pitch and
timing is truly a match for the sound of the bowls.
"I have invited Stephanie to participate in several radio shows with me on
Expanding Awareness WZBC, where she used the tones from the bowls to attune
the radio audience to flow in sync with the Earth Changes.
"We also appeared on RI Cable Television. There she was an immediate hit
and has reappeared at several more events. She also performed at Energy
Theater at Christ Church Unity in Somerville. Her performance inspired the
pastor to ask her to play for the meditation during a church service.
"I am a painter and had an amazing session in my studio with Stephanie
playing while I created a painting of the sounds.
"I love her work and hope many more people will enjoy the experience and
the deep relaxation and healing it offers."
Sincerely,
Linda Clave, Allston, MA
______________________________________________________
Hi Steph,
"I've been intending to write you ever since that last bowl
session; saw the testimonials on your FB page and want to share mine. I've
had a couple of sessions with you and everyone knows how relaxing they are.
However, this one was different. After getting me relaxed, you suggested
putting a bowl on my back to get to the area under my shoulder blade where
I'd had a dislocation in a fall years ago. It was always "popping" when
someone hugged me, and very tender. Also, in that same area I've had a
chronic lung congestion. Not sure if it was related to the injury but it
makes sense it could be.
"I was reluctant (as you know). Feeling relaxed is one thing, but helping an
injury I had ten years ago. . . ? I couldn't see how it could help. It just
sounded sort of weird to me. SO GLAD I agreed to let you do it! At first
you were moving the bowl slowly around my back, and every time you hit that
spot I felt it - really felt it, so I asked you to hold it there.
"Interestingly, as you were playing on that spot the vibrations felt
condensed right there, even though the bowl was also resting outside of that
area. Don't know the length of time, maybe ten - twenty minutes? Suddenly,
something happened. I felt a warmth spreading throughout my chest and
upper back; the tenderness was gone and I could take really deep breaths
without the congested rattle. Not to mention I was so relaxed I wanted to
curl up and go to sleep right there. (I remember telling you "I feel like
pudding":-).
"I can almost take myself back there right now, remembering as I'm typing
this. Thank you so much, Steph. Looking forward to seeing you again
..... soon!!!"
Jackie P., Millerton, PA
___________________________________________________________
"Craig and I both very much enjoyed your bowl session. It was very calming
and spiritual, and we slept quite well for several nights afterwards. I
wish you were closer so we could do it again!"
Janet & Craig, Gloucester, MA
_______________________________________________________
"I really enjoyed the program last night at EB Library, and wanted to thank
you for sharing the singing bowl experience. The attendees seemed like a
group of people with various perspectives and backgrounds, and I
particularly liked how you allowed the experience to speak to us all in our
own way.
"I am sometimes reserved in sharing my experiences in a group, but I wanted
to let you know that I truly enjoyed your playing. I am new to meditation
and often times during a session I have to adjust my posture because as I
begin to go deeper into meditation or chanting I relax physically and
slouch causing my breathing to not be as full. With the singing bowls last
night, I had no trouble maintaining posture, in fact mid way through I had
the sensation of my posture *improving*. It was as if there was an invisible
zipper aligning my spine.
"For the last five minutes, I opened my eyes and watched you playing the
bowls and (I hope this does not sound too strange, but) it was as if I
could see the vibrations coming off the bowls - similarly to how heat looks
coming off a pavement on the horizon. It was rather hypnotic.
"I also noticed a very mentholated sensation in my wrists and ankles. I say
mentholated because it was an icy burning sensation, and when I did my
evening yoga before bed last night I noticed a considerable difference in
the amount of tension in my body - a lot less.
"I will definitely be watching your site for news and events. I will also
consider a private session.
"Again, thank you. I wanted to send my gratitude along for the wonderful
experience last night."
Jim S., East Bridgewater, MA
__________________________________________________________
"I attended Stephanie's singing bowl session with my teenage granddaughter. I
was able to relax into a deep, peaceful meditation and felt the vibrations
of each of the tones in different parts of my body, it was so healing. My
granddaughter had a vision during the session and was able to share it later
with the group. Her vision was validated the next day so the tones from
the bowls definitely helped her connect to spirit. Stephanie is gentle and
welcoming, and it's apparent that she loves what she does."
Pauline P., MA
_____________________________________________________
"I'm now 35 years old. When I was 21, I was in a horrible motorcycle
accident that left me with 6 fractured vertebrae, plus muscle and nerve damage
in my neck, upper back and right shoulder. All of the bones across the top
of my right ankle were broken and I dislocated my heel. I lost most range
of motion in my ankle and foot. As a result, I have had a lot of pain and
muscle spasms in my back and neck along with migraine headaches. Seven
months after that accident, I tore the ACL in my right knee. During the
hospital stay to repair the damage I got a staph infection, which further
damaged my knee.
"In my first session with Stephanie I was put into a deep state of
relaxation. During the session I felt a wave of vibrations start at my
ankle and work its way up to my knee. I could feel heat and tension escape
with so much relief it was unbelievable. When I stood up from the chair
most of my joints cracked and loosened up. I felt so good that day and
night I couldn't believe it. That evening, I spoke with a family member who
usually initiates an argument and I couldn't even generate a nasty attitude,
I was so at peace. I slept for 9 hours that night (up from my usual 5-6)
without the need for medication, and I woke up feeling completely refreshed.
"Again, I felt deeply relaxed during the session (my fourth). I actually
woke myself up a couple of times with a snore. About halfway through I felt
pressure build up in my ankle so I just pointed my toes toward me and got a
"pop", with a lot of relief. Actually, this happened three times during
this session. When Stephanie was done I was telling her about how my ankle
had "popped" and as I looked down to demonstrate I realized with pure
amazement that I had not been able to move my foot and ankle with such a
range of motion in 14 years!
"I have noticed that my aches and pains have toned down a lot, my spirits
have been so much lighter and my stress so much lower. I have been smoking
about 1/3 fewer cigarettes without even trying and I have not been eating
as much, especially at night. This is with no conscious effort on my part.
I am so happy and amazed with the progress I have made since I have started
working with Stephanie, and I am grateful and impressed with the gift that
she has."
Brian C., Halifax, MA
TOP OF PAGE
email Stephanie
or call 781.510.9199
HOME
ABOUT
ME
BOWL SESSIONS
HIMALAYAN SINGING BOWLS
FOR SALE
OF INTEREST
(These testimonials are from
real
people, sharing
their
experiences with the singing bowls. Your experience will be unique to
you
. The Singing Bowl Lady makes no claims as to what the bowls
may
do for
you
. Contact and consult with your health care professional before stopping any medication, or discontinuing their protocol for you.)